This October, shop Pink United products at Whole Foods Market. A portion of the proceeds of these products supports breast cancer research and awareness. You can make the difference.

Thank you for your support.
United in the fight against breast cancer.
Together we can make a difference.
Facts about Breast Cancer
Breast cancer is the number one cancer in women.
Thousands of women will learn they have breast cancer this year. Thousands of women will die from it.
Breast cancer does not only occur in women. This year over two thousand MEN in the US will learn they have breast cancer. Hundred's will die from it.
Today, most women will survive for 5 years or more if detected early.
If the cancer spreads outside the Breasts, less than 3 in 10 women will survive for 5 years.
Who's at Risk?
Over 50 years old, 8 in 10 breast cancers are found.
Either you or a family member has had breast cancer.
Abnormal breasts discovered in a mammogram.
Had a high dose radiation to the chest.
Started a menstrual period before age 12 or stopped after age 55.
Have never had a child or had your first child after age 30.
Taking Birth Control = higher risk. Stopped taking over 10 years ago = lower risk.
Are overweight or obese after menopause.
Hormone replacement therapy.
Have one or more alcoholic drinks a day.
How to check for breast cancer:
Once a month from age 20 (At this early age, any small lumps are probably just normal breast glands and ducts, so it is easier to tell if any new lumps appear.
Check your breasts a few days after your period when your breasts aren't so sore. If you don't have periods or if they come at varying times, check your breasts at the same time every month.
How do I check for lumps?
Start by standing in front of a mirror. Look at your breasts with your arms at your side, with your arms raised behind your head, and with your arms on your hips and your chest muscles flexed.
Next, lie down with a pillow under your left shoulder. Put your left hand behind your head and feel your left breast with the pads of the 3 middle fingers on your right hand. Start at the outer edge and work around your breast in circles, getting closer to your nipple with each circle. After you've finished checking your breast, squeeze your nipple gently and look for discharge (fluid coming out of the nipple).
Do the same thing to your right breast with a pillow under your right shoulder.
Be sure to include the area up to your collarbone and out to your armpit. You have lymph nodes in this area. Cancer can spread to lymph node tissue.
Changes to look for in your breasts
Any new lump (which may or may not be painful or tender)
Unusual thickening of your breasts
Sticky or bloody discharge from your nipples
Any changes in the skin of your nipples or breasts, such as puckering or dimpling
An unusual increase in the size of one breast
One breast unusually lower than the other.
Source
American Academy of Family Physicians
Whole Foods Market is committed to a making a difference and this October, during Breast Cancer Awareness Month, we are providing a vehicle to raise awareness and money for breast cancer research as a joint effort with our vendors. Zorbitz proposed an idea for a program called Pink United, which I feel, will work well in our stores.
We are offering a variety of Pink United products for sale in our stores. Every vendor is earmarking a product (or set of products) to bear the Pink United logo or text, committing to make a contribution to the breast cancer charity of their choice from the sale of respective products.
This is a beautiful program and I encourage everyone to help us make a difference.
Jeremiah McElwee
Senior Global Whole Body Coordinator
Global Purchasing Team
Whole Foods Market

For more information, please visit wholefoods.com
Zorbitz Inc., and Whole Foods Market
Proudly Launch Pink United.
UNITED IN THE FIGHT AGAINST BREAST CANCER
Together we can eliminate Breast Cancer Forever.
Pink United was established in 2007 to raise money for breast cancer research and awareness by combining the efforts of many Whole Foods Vendors. The concept was derived out of the fact that there are many companies who support breast cancer research as an individual effort. We wanted to create a powerful program that would join the efforts of all the companies and raise money and awareness for breast cancer research with support from Whole Foods Market.
Breast Cancer is a worldwide tragedy effecting thousands of people. It is time NOW to work together and end breast cancer forever.
It is the simple things in life that make a big difference for the world. Please help us in finding a cure this year.
Thank you for making a difference.
---
Contact Pink United thru
Zorbitz, Inc.
5948 W. Lindenhurst Ave.
Los Angeles, CA 90036
Toll Free: (866) 967-2489
Phone: (323) 571-4944
Fax: (323) 571-0866
ZorbitzCards@yahoo.com
For more information on Zorbitz, please visit zorbitz.net
For more information on Whole Foods Market, please visit wholefoods.com



Each Company is supporting a different Breast Cancer Charity of their choice.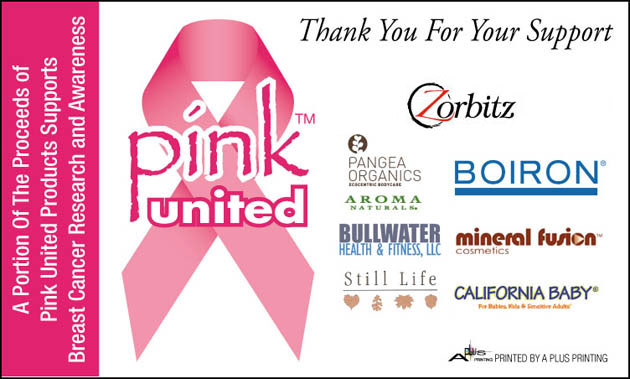 News
May 2007: Zorbitz Launches Pink United at Revlon Run New York and Los Angeles and donate over 50,000 Products
June 2007: Zorbitz Donates 17,000 Pink Strings to Race for the Cure